Good morning everyone! So, today I wake up with a craving for something healthy and delicious. Those who know me, know very well that I'm not a morning person, that usually (well... almost always) I don't eat in the morning. I just have my coffee and that's all, but since a month ago I've started trying to improve my diet and try to have regular meals every day. Of course it doesn't always go as I plan, but at least I try.
Bună dimineaţa! Astăzi m-am trezit cu o poftă nebună de a mânca ceva sănător şi în acelaşi timp delicios. Hmm, voi cele care mă cunoaşteţi, ştiţi foarte bine că nu sunt o persoană matinală şi nici nu prea mănânc dimineaţa. Pentru mine cafeaua este cel mai bun mic-dejun, însă de aproape o lună încerc să urmez o dietă mai sănătoasă şi să mă obişnuiesc să mănânc dimineaţa. Nu reuşesc în fiecare zi, dar cel puţin încerc.
So, as I was saying, today I woke up very energetic and I was in the mood for cooking something really simple. What to do, what to do... I remembered I had an avocado so quickly something really easy popped up in my mind. What about some Avocado Tuna Paste. It's healthy and incredibly creamy, rich and flavorful.

Şi după cum spuneam... În această dimineaţă m-am trezit cu un chef nebun de gătit şi aveam chef de ceva simplu, rapid şi sănătos. Ce să fie, ce să fie... Mi-am amintit că am un avocado şi imediat am realizat ce voi mânca. Repede, repede mi-am făcut o Pastă de Avocado cu Ton. Ce să vă zic despre ea, e sănătoasă, incredibil de cremoasă, săţioasă şi nici nu mai vorbim de delicioasă.
All you need is: /
Ingredinte:
1 avocado /

1 avocado

fresh lime juice or lemon juice /

zeamă proaspătă de la o lămâie sau lime

salt and freshly ground black pepper /

sare şi piper proaspăt măcinat

1 can chunk tuna in oil, drained /

1 conservă de ton mărunţit, scursă de ulei

1 garlic clove (optional, if you want to add some spice to it) /

1 căţel de usturoi (opţional, doar dacă doriţi puţină iuţime pastei)
What you have to do is: place the avocado in a bowl and smash it with a fork. I you want, you can use a blender or food processor for a pureed consistency. After that, just mix the avocado with the drained tuna and season the mixture to taste with a few pinches of salt, fresh pepper and lemon/lime juice. Serve immediately.
Ce trebuie să faceţi: puneţi avocado curăţat într-un castron şi pasaţi cu furculiţa până obţineţi o pastă. Dacă vreţi puteţi folosi mixerul sau blender pentru a obţine un piure. După ce aţi obţinut pasta de avocado, amestecaţi cu tonul scurs de ulei şi condimentaţi după gust cu sare, piper proaspăt măcinat şi zeamă de lămâie sau lime. Serviţi imediat.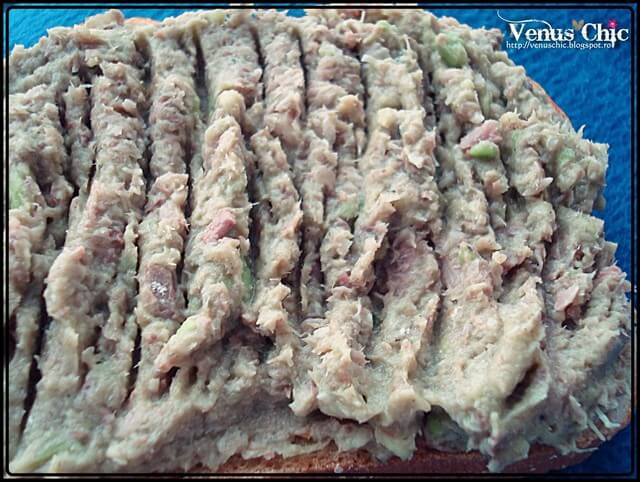 I highly recommend it to be served with toast, for a crunchy experience next to the softness of the paste.
Eu ve recomand să serviţi pasta de avocado cu ton pe pâine prăjită, textura crocantă a pâinii prăjite merge perfect cu pasta cremoasă obţinută.
Have you ever tried this or would you try it? Do you think you'll like it? I'm waiting for you opinion.
Aţi încercat până acum această combinaţie, dacă nu, aţi încerca-o? Aştept părerea voastră.