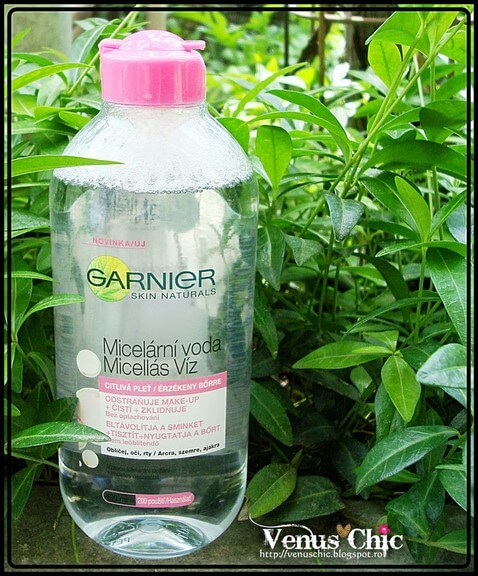 I've recently bought from Aoro the Garnier Micellar Cleaning Lotion and I fell in love with it after the first use. Today I want to present to you my experience with it, I'll be short and tell you what I did and did not like about it, so that you can get an idea in case you want to try it.
De curând am cumpărat de pe

Aoro

Loţiunea Micelară de la Garnier şi m-am îndrăgostit de ea de la prima folosire. Astăzi vreau să vă prezint experienţa mea în urma folosirii ei, n-o să mă lungesc mult şi o să vă spun ce-mi place şi ce nu-mi place ca să vă puteţi face o idee în cazul în care vreţi s-o încercaţi şi nu ştiţi dacă vi se potriveşte sau nu.
But first I want to explain what micellar cleaning lotion is:
-it has less ingredients and the formula is more advanced
-it's good for tge eye area and lips, not just the rest of the face
--it has absolutely no smell
-it's recommended to be used alone, without cleansing the skin before with make-up remove lotion, unless you have a lot of makeup on
Dar pentru început vreau să vă explic ce înseamnă apa micelară:
Apa micelară
:
- are mai puţine ingrediente şi formula este mai evoluată din punct de vedere ştiinţific;
- nu conţine alcool;
- este potrivită atât pentru ten, cât şi pentru ochi şi buze;
- nu are absolut niciun miros;
- este recomandat să o foloseşti singură, fără să iţi cureţi tenul în prealabil cu loţiune demachiantă, însa dacă ai aplicat mult machiaj eu iţi recomand să nu sari acel pas.
But let's get back to the Micellar solution from Garnier.
·
What do they say:
Micellar water provides the best way to cleanse make-up and it also soothes all the areas of the face. For the first time, Garnier introduces micellar water in an intelligent makeup remover, which fits all skin types.
·
Ce spun ei:
Apa micelară oferă cea mai uşoară modalitate de eliminare a machiajului, curăţă şi calmează toate zonele fetei (ten, ochi, buze). Pentru prima dată, Garnier introduce tehnologia micelară într-un demachiant inteligent. Se potriveşte tuturor tipurilor de ten, chiar şi celui sensibil.
·
How does it work:
Micelles gather residues from your skin like a magnet, removing the makeup, cleaning and soothing your face and neck.
·
Cum funcţionează:
Micelele captează ca un magnet reziduurile de pe piele, îndepărtând machiajul, curăţând şi calmând pielea tenului şi decolteului.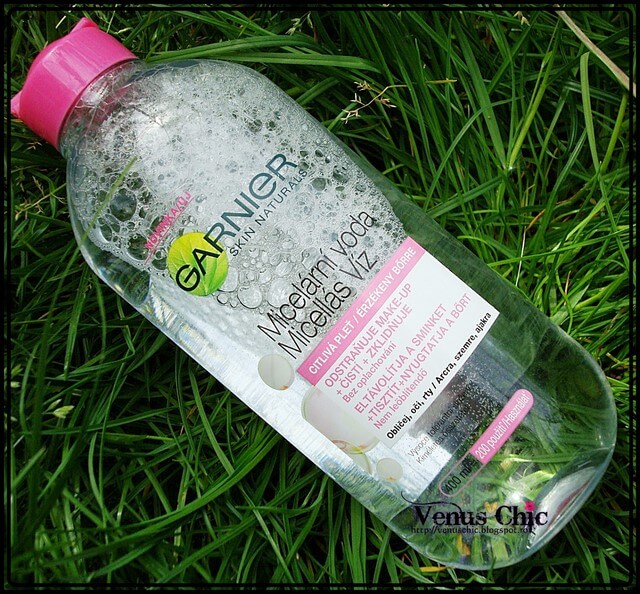 ·
How to use:
Put a small amount of product on a diskette and gently rub it on your face and décolletage to remove any impurities and makeup.
·
Mod de folosire:
Pune-ţi un pic de produs pe o dischetă demachiantă şi prin mişcări simple, fără a apăsa sau freca, ştergeţi întreaga faţă şi decolteul pentru a îndepărta impurităţile.
-
My opinion:
I know I've mentioned this before, but my skin, whilst having a tendency towards oiliness, it is quite sensible. I find it very hard to find a makeup remover that will not affect my skin. Usually after using makeup remover my skin stings and feels dry and rigid.
·
Părerea mea:
Ştiu ca v-am spus de multe ori că tenul meu, deşi cu tendinţe de îngrăsare, este foarte sensibil şi pretenţios. Cu greu găsesc un demachiant / loţiune demachiantă care după folosire să nu-mi afecteze pielea tenului. De obicei după curăţarea pielii cu majoritatea produselor cosmetice, aceasta mă ustură şi o simt uscată şi rigidă.
Micellar cleaning solution from Garnier cleans away make-up very well, does not leave residue, does not dry up my eye area, it doesn't sting and it feels exactly like water. What I like about it is the fact that it has no smell whatsoever, as opposed to similar products, it doesn't contain alcohol, and, very importantly, the quality-price ratio is very good: a 400 ml bottle costs 32 lei.
Apa micelară de la Garniel curăță foarte bine machiajul, nu lasă reziduuri, nu-mi usucă zona ochilor, nu mă ustură absolut deloc și se simte exact ca apa. Ceea ce îmi place la ea foarte mult este faptul că nu are miros, spre deosebire de alte astfel de produse de curăţare, nu conţine alcool şi mai ales faptul că raportul preţ-calitate este foarte bun. Apa micelară de la Garnier se găseşte la un preţ de 32 lei, pentru o cantitate de 400ml.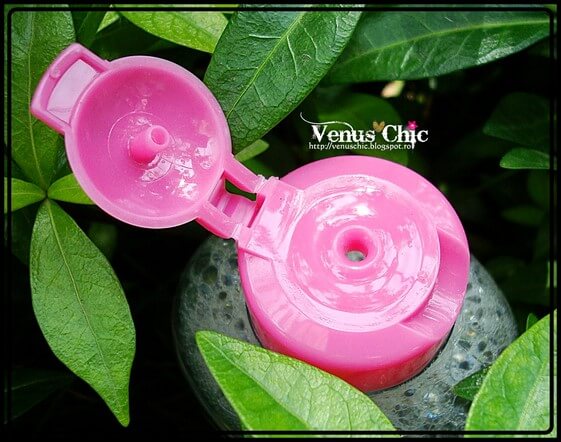 As a negative aspect, I would like to point out the dosing system. I would have liked that the circumference of the opening were a little smaller, because every time I use it I feel like there is too much product coming out. To avoid this is prefer to press a cotton diskette directly to the opening, so I can control how much liquid comes out.
Ca aspect negativ, singurul lucru de care mă pot lega este sistemul de dozare. Mi-ar fi plăcut ca circumferinţa să fie un pic mai mică, deoarece mi se pare că de fiecare dată curge mai mult produs decât ar trebui. Pentru a evita aceast lucru, eu prefer să lipesc discheta demachiantă de sistemul de dozare şi să întorc sticla la 90 grade, pentru a scoate apoi cantitatea de produs dorită prin apăsare.
If you haven't bought it already, I suggest that you do. The quality-price ratio is excellent!
Dacă nu aţi cumpărat deja loţiunea de la Garnier, vă sugerez să o încercaţi. Raportul calitate-preţ este excelent!
Have you tried this lotion from Garnier? If you have, what do you think of it?
Voi aţi încercat loţiunea de la Garnier? Dacă da, ce părere aveţi despre ea?