Today I will begin the series of articles with the theme The ONE by Oriflame. If you're following me on Facebook you've seen that at the beginning of the month I received a package from Oriflame which contained The ONE products.
Astăzi voi începe seria de postări THE ONE by Oriflame. Dacă mă urmăriţi pe
Facebook
, aţi văzut că la începutul lunii am primit un pachet de la Oriflame ce conţinea produse din gama
THE ONE
.
Today I'm going to present to you my experience with the Power Shine Mega Impact glosses. The ones which I received are Rose Glacier and Trendy Berry, and there are 6 more in the collection: Nude Reflection, Iridescent Blush, Soft Pink, Luminous Violet, Soft Coral and Plum Dimension.
Astăzi urmează să vă prezent experienţa mea cu gloss-urile Power Shine din gama Mega Impact. Eu am primit nuanţele Rose Glacier şi Trendy Berry, iar în

colecţie

regăsim

încă 6 nuanţe: Nude Reflection, Iridescent Blush, Soft Pink, Luminous Violet, Soft Coral şi Plum Dimension.
What they say:
This ultra shinny lipgloss, with Meta Shine pearls which intensify shine, has a ShineBoost applicator which gives a uniform finish, with a mirror-like aspect. Complex Caring Gloss Kiss, the smoother the lips, the more intense the shine.
Ce spun ei:
Luciul ultra strălucitor pentru buze, cu perle Meta Shine ce intensifică strălucirea şi aplicator ShineBoost ce conferă un finisaj uniform, cu aspect ca de oglindă. Complex Caring Gloss Kiss, cu cât buzele sunt mai netede, cu atât strălucirea este mai intensă.
How does it work
: The ONE Power Shine lipgloss makes your lips shiny, sensual and voluptuous.
Cum funcţionează:
Luciul de buze The ONE Power Shine pentru buze senzuale şi voluptoase, pline de strălucire şi luciu.
My opinion
: People who know me are aware of the fact that I'm not a big fan of lipgloss in general, but if I find a good one I will use it until it's finished. I've tested the Rose Glacier and Trendy Berry shades, the first one being a very pale pink and the second being a darker shade. What I like about the Power Shine range is the fact that the gloss is not sticky and doesn't dry your lips. They smell absolutely awesome, they're flowery-fruity, an absolute delight to smell.
Părerea mea:
Cine mă cunoaşte ştie că nu sunt adepta gloss-urile, însă atunci când găsesc un gloss care să merite, nu-l scap din folosire până nu îl termin.
Am testat nuanţele Rose Glacier şi Trendy Berry, prima fiind o nuantă foarte deshisă de roz, iar cea de-a doua fiind o nuanţă mai închisă.
Ceea ce î
mi place la gama Power Shine este faptul că luciul nu e lipicios și nu usucă buzele.
Miros absolut senzaţional, au un miros dulceag-fructat, e o plăcere să le miroşi.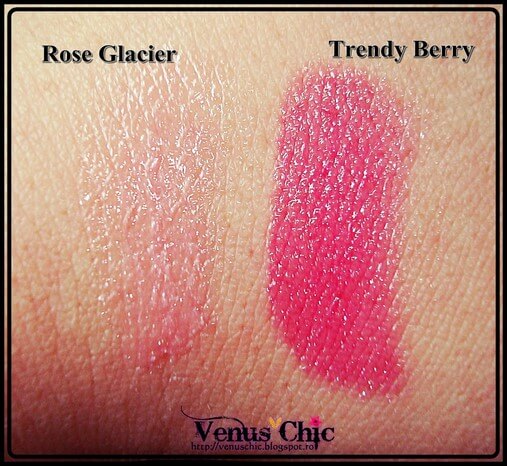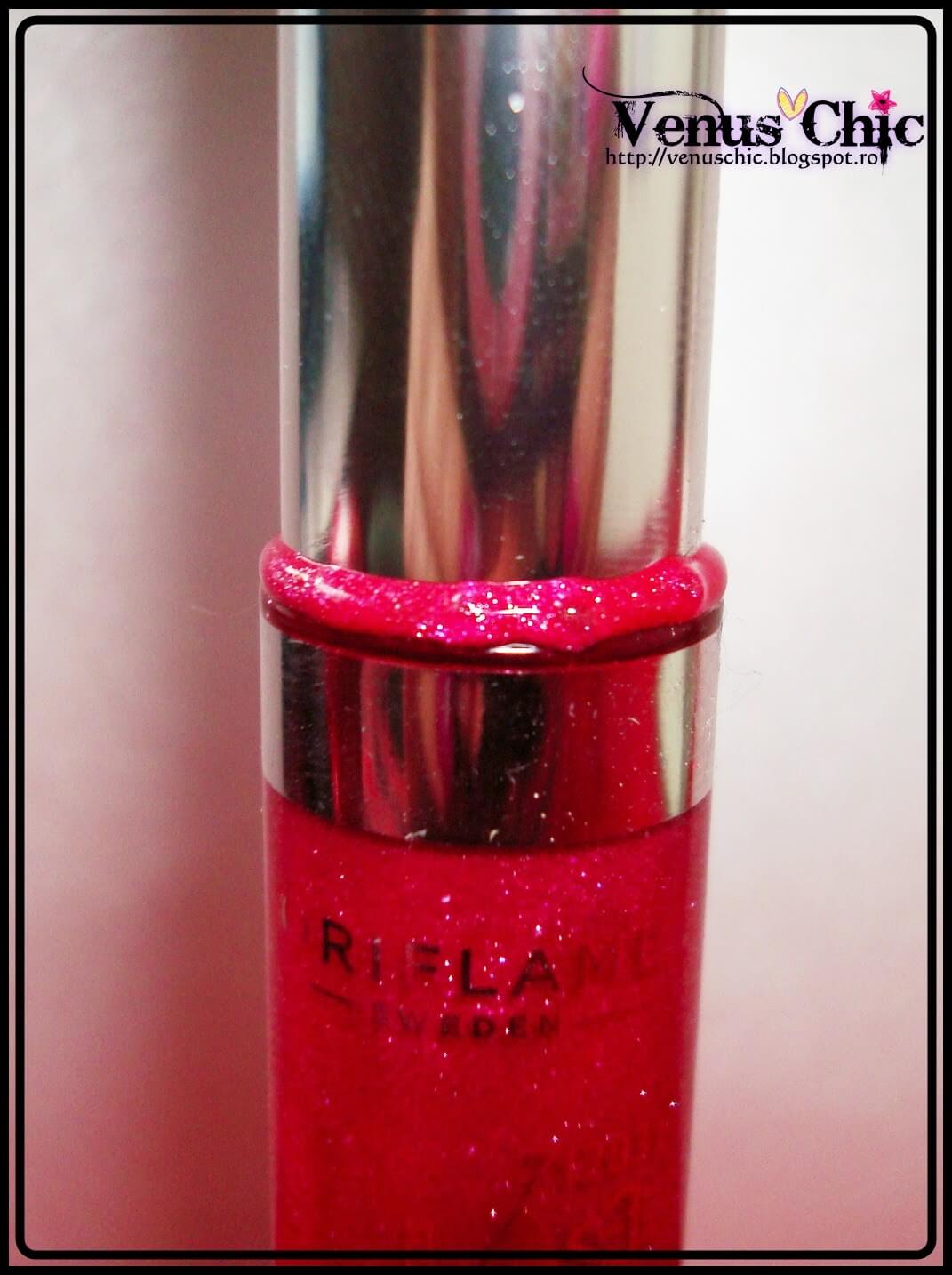 What I dislike is the fact that the shine particles stay on your lips even after the gloss isn't on your lips anymore, and it also gets on your face if you kiss or touch, and it kind of makes me look like a Christmas ornament. Another negative point is the closing system, which in the case of the Trendy Berry (the darker one) doesn't keep the liquid inside very well. After using, when closing it it's not possible not to get dirty(it's not completely full as I've been using it every day since I received it, so it's not a problem of too much liquid in the container).
Îmi displace însă faptul că particulele sclipicioase din compoziție rămân pe buze după ce luciul dispare, de asemenea
sclipiciul se transferă pe piele, la sărut sau la atingere şi după arăt ca globurile de Craciun
. Un alt punct negativ este
sistemul de închidere nu foarte reuşit
pentru că Trendy Berry (cel mai închis la culoare) "dă pe afară", după folosire, când închizi recipientul nu e posibil să nu te murdăreşti (recipientul nu e plin pentru că l-am folosit în fiecare zi de când l-am primit, deci nu putem vorbi de surplus).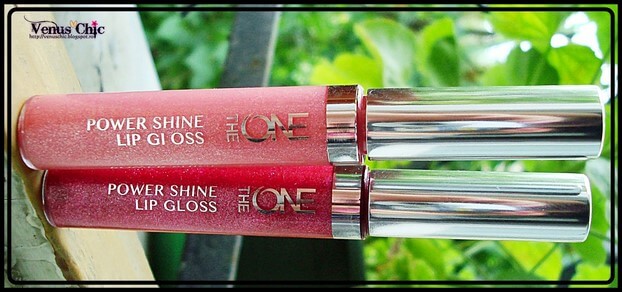 Finally, The ONE Power Shine lipgloss is good, I can see myself using it daily, as I love its fruity, mellony almost smell, and I like the fact that it doesn't dry my lips.
În final luciul de buze The ONE Power Shine este un luciu bun, care îl pot regăsi în rutina mea de zi cu zi, ador mirosul lui fructat, pot spune de pepene galben chiar, şi faptul că nu îmi usucă buzele.
What do you think? Have you tried them? And if not, would you?
Ce părere aveţi? Aţi apucat să le încercaţi? Dacă nu, aţi face-o?