About a month ago I bought from Triodeluxe a hair repair spray from Marien Professional and I just fell in love with it. Today I want to share with you my experience with the Marien Biphasic Professional Hairspray.
În urmă cu o lună mi-am luat de pe
Triodeluxe
un spray reparator pentru păr marca Marien Professional de care pur si simplu m-am îndrăgostit. Astfel, azi vreau să vă împărtăşesc experienţa mea cu tratamentul de păr
Marien Professional - Bifazic Profesional
.
·
What are they saying:
It gives immediate care for any type of hair, especially if it's damaged. The reparing system is specially created, containing Provitamine B5 and Vitamine E.
·
Ce spun ei:
Conferă îngrijire imediată pentru orice tip de păr în special pentru părul deterioarat. Sistemul de reparare a părului este special creat cu Provitamina B5 şi vitamina E.
·
How does it work:
It gives your hair a healthy aspect and shine, and it makes it easier to comb. It also gives volume.
Cum funcţionează:
Acesta
dă un aspect sănătos, strălucitor şi mătăsos părului şi ajută la pieptănarea uşoară. Dă volum şi densitate părului.
·
How to use:
Shampoo, rinse and towel dry your hair leaving it slightly moist. Agitate the bottle before using, and apply to your hair. Do not rinse your hair after use.
·
Mod de folosire:
Şamponaţi, limpeziţi şi usca
ţ
i părul cu un prosop lăsîndu-l uşor umed. Agitaţi bine produsul înainte de utilizare. Aplicaţi pe păr. Nu se limpezeşte părul după aplicare.
·
My opinion:
I've been using this product for about a month and I can honestly say that I can't part from it. I love the fact that the bottle is almost transparent and as such you always know how much product you have left; furthermore, it has an atomizer, helping you spread it on your hair without much loss.
·
Părerea mea:
Folosesc acest produs de aproape o lună şi pot spune cu mâna pe inimă că nu mă mai despart de el. Ador faptul că sticla este aproape transparentă şi mereu ştii cât produs a mai rămas de folosit, de asemenea este dotată cu un pulverizator, ceea ce face ca dozarea produsului să se facă cu uşurinţă pe tot părul fără a avea pierderi.
I've been using this treatment 2-3 times a week and I've noticed even after the first use its effects. It doesn't laden your hair, it prevents hairloss and "tames" split ends, and most importantly, it smells heavenly. After using it I always have the feeling that I've just left the hairdresser.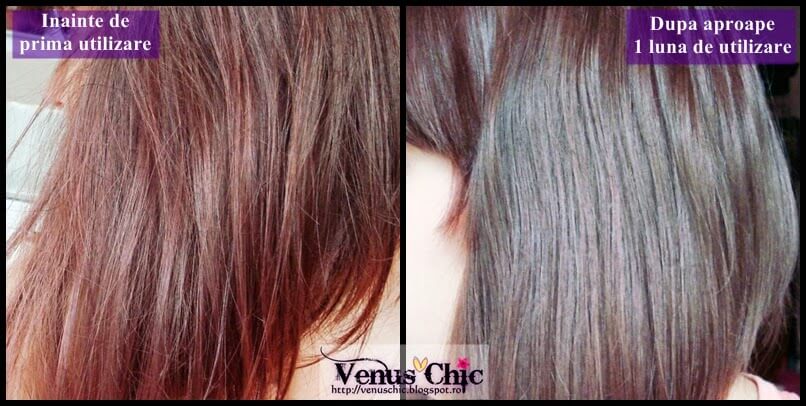 Eu folosesc acest tratament de 2-3 ori pe săptămână şi am observat încă de la prima utilizare efectele acestuia. Nu încarcă părul, îl lasă mătăsos şi uşor de pieptănat, previne căderea părului, "îmblânzeşte" vârfurile deteriorate şi cel mai important, miroase demenţial. Mereu după utilizarea acestuia am senzaţia că abia am ieşit de la coafor.
The quality-price ratio for this hair treatment is very good, you can order it with confidence and I'm absolutely convinced that you will not be disappointed.
Raportul calitate-preţ-cantitate pentru tratamentul de păr
Marien Profesional - Bifazic Profesiona
este unul foarte bun, îl puteţi comanda cu încredere şi sunt absolut convinsă că nu veţi fi dezamăgite.
Have you tried the Marien Professional Biphasic hair treatment? If not, would you like to try it?
Voi aţi

încercat tratamentul de păr

Marien Profesional - Bifazic Professional

? Daca nu, l-aţi încerca?