Today
I want to present you a product that I recently discovered and felt in love with. I'm the kind of person that just can't draw a straight eyeliner line even if I want to. But since I got my
Superliner
Luminizer
from L'
Oreal I started to think that, "heck, this is easy". Now it's really simple for me to use eyeliner and I really enjoy doing my make-up.
Astăzi vreau să vă prezint un produs de make-up de care m-am îndrăgostit și care m-a făcut să realizez că nu totul e atât de greu pe cât pare. Eu sunt genul de persoană care este incapabină să deseneze o linie dreaptă cu tușul la ochi, însă cu
Superliner
Luminizer de la
L'Oreal reușesc să mă machiez uniform la ambii ochi.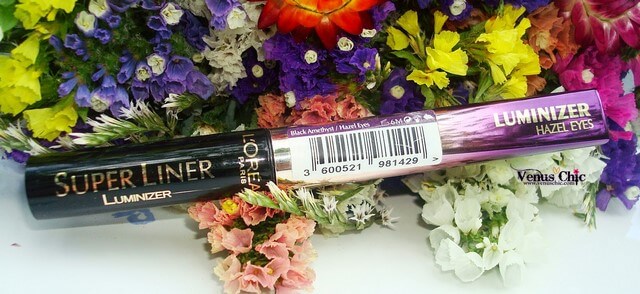 What they say:
Intensify your eye appearance with Superliner Luminizer liquid eyeliner. It exists in 3 brilliant and dazzling shades with light reflecting particles. L'oreal Paris Superliner Luminizer Shades:
- Black Emerald for green eyes
- Dark Sapphire for blue eyes
- Black Amethyst for brown, hazel eyes
Ce spun ei:
Intensifică-ți aspectul ochilor cu
Superliner
Luminizer
contur lichid
. Îl poți regăsi în
3
nuanțe
strălucitoare
și
uluitoare
cu
particule
care reflectă lumina
.
L'Oreal
Paris
Superliner
Luminizer
Shades
:
- Black Emerald pentru ochi verzi
- Dark Sapphire pentru ochi albastri
- Black Amethyst pentru ochi căprui
How it works:
Thanks to its soft and supple sponge tipped pen, Superliner Luminizer gives a quick, easy and uniform application. Create a line as thick or as delicate as you wish. Superliner is a liquid eyeliner in a special sponge tipped pen and thus the color can be applied with ease and precision as thin fine lines or thick sultry flicks.
Cum funcţionează:
Datorită
vârfului sub formă de peniță
moale
și suplă
vârf
,
Superliner
Luminizer
oferă o
aplicație
rapidă
,
ușoară
și
uniformă
.
Creați o
linie
la fel de groasă
sau
de
delicată
cum doriți
.
Superliner
este
un
contur lichid
cu ajutorul căruia, datorită peniței special create, se sedenează ușor atât o dungă subțire cât și una mai groasă, după preferințe.
How to use:
Hold the eyelid taut with your other hand to facilitate application.
Mod de folosire:
Țineți
întinsă
pleoapa
cu
cealaltă mână
pentru a facilita aplicarea
.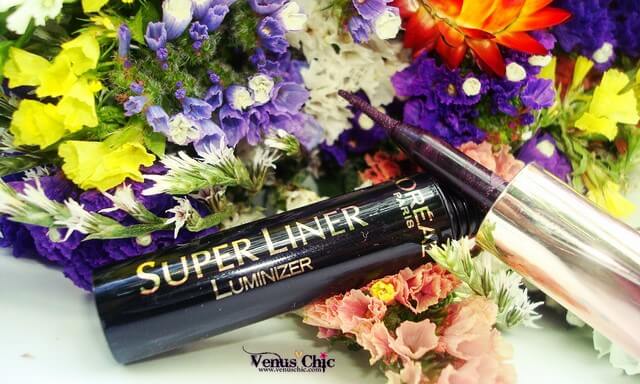 My opinion:
The color I picked is Black Amethyst, a gorgeous purple with metallic shimmer.

The subtle metallic sheen is only visible from certain angles and the different lights from the room which you are in. What I really love about it is that this eyeliner is perfect for day and night wear, as its metallic shimmer contours the look, giving it a sleek and classy look.
Părerea mea:
Culoarea
pe care am ales-o eu este Black Amethyst și este un violet superb cu străluciri metalice. Aceste străluciri metalice sunt vizibile doar din anumite unghiuri și în funcție de luminozitatea camerei în care te afli. Ceea ce îmi place foarte mult este faptul că este un tuș numai bun de folosit atât noaptea cât și ziua, deoarece aceste particule strălucitoare nu ies foarte tare în evidență ci doar accentuează culoarea tușului și scot subtil în evidență forma ochiului.
The tip is really easy to use, because it's made in the shape of a pencil. Because it's made from felt it's not too soft and also not too hard, just perfect for you to make a line in just one stroke. It picks up an appropriate amount of product. The consistency is thin and it dries quickly but it needs layering to make it intense.

For a true opaque finish you will need to go over your original line 2 to 3 times but don't worry, the felt tip makes it very easy. Those who know me in real life, know that I have a hard time wearing eyeliner and especially putting it on, but now with this eyeliner all my problems are gone, it's designed perfectly, and I can

make a line in just one stroke.
Vârful este foarte ușor de folosit, fiind conceput asemenea unei penițe din cauciuc suficient de moale. Nu este nici moale asemenea pensulei clasice de tuș și nici destul de dură să zgârie pleoapa la aplicare. Acest vârf este foarte ușor de manevrat și preia cantitatea necesară de produs din sticluță. Cu ajutorul lui se creiază ușor o dungă subțire ce se usucă imediat, însă pentru un finisaj opac și intens sunt necesare 2 straturi.
Pentru cele care mă cunosc personal știu foarte bine faptul că eu sunt incapabilă de a mă da cu tuș, însă acum nu mai am această problemă. Datorită vârfului sub formă de stilou imediat reușesc să trasesz liniile care înainte îmi dădeau batai de cap.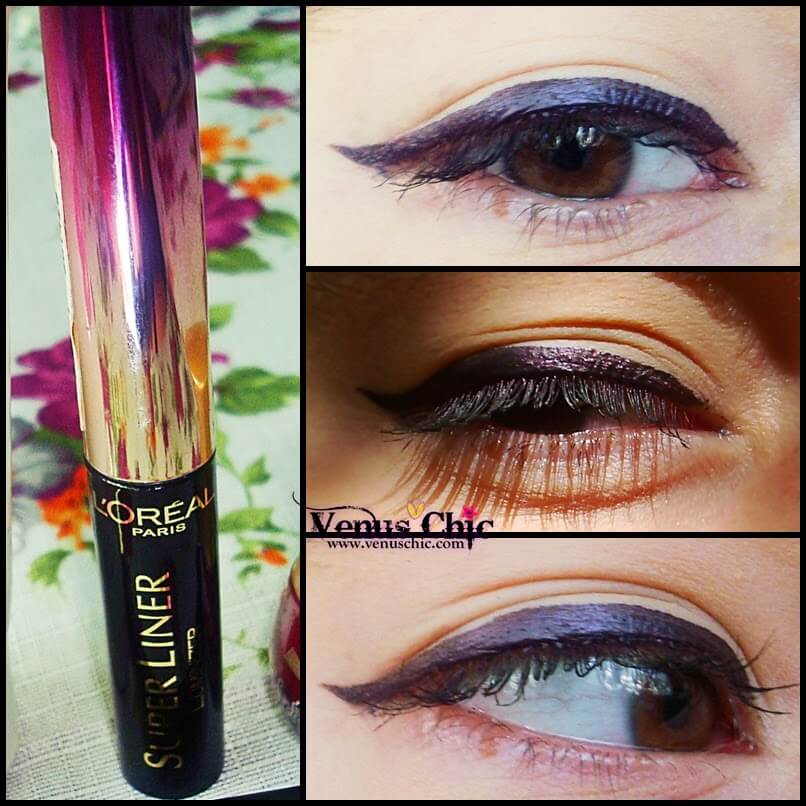 Another thing that I really like about this eyeliner is that it is water resistant and not waterproof.

I can wear it for a long time and it doesn't smudge quickly, it is also sweat resistant.
De asemenea îmi place faptul că este destul de rezistent la apă, machiajul rezistă o perioadă îndelungată și nu dispare imediat. De reținut faptul că NU este waterproof, însă rezistă bine în contact cu apa și transpirația în comparație cu alte produse.
I really like this product and when I finish this one, I'll go buy it again.
If you want to buy it you can find on
ProduseCosmetice
.
Sincer eu sunt foarte mulțumită de acest tuș și când îl voi termina chiar nu voi rata ocazia de a îl recumpăra. Dacă doriți și voi să îl cumpărați îl puteți găsi pe ProduseCosmetice.
Have you tried L'Oreal Paris Superliner Luminizer for hazel/brown eyes ? Or the other shades?
Ați încercat L'Oreal Paris Superliner Luminizer pentru ochi căprui? Sau ați încercat una din celelalte nuanțe?