Pentru astazi v-am pregatit o postare noua, foarte draga mie. Este vorba despre o noua manichiura realizata pentru colaborarea de pe grupul The Polish Addict. Nu puteam sa nu revin in forta fara postarile pentru aceasta colaborare. Desi, ca intotdeauna (se pare ca mi-am facut un obicei prost) cu o zi intarziere.
Incepem prin a va prezenta temele lunii Februarie, mai exact: Hearts, Valentine's, Flowers you love si Colours you love, teme perfecte pentru luna iubirii.
Asadar, pentru tema de saptamana aceasta, Hearts, am pregatit o manichiura care sa reflecte una din marile mele iubiri, si anume universul Sailor Moon. De cand a ajuns la mine placuta BP-49 de pe site-ul Born Pretty Store, abia asteptam un motiv sa o folosesc.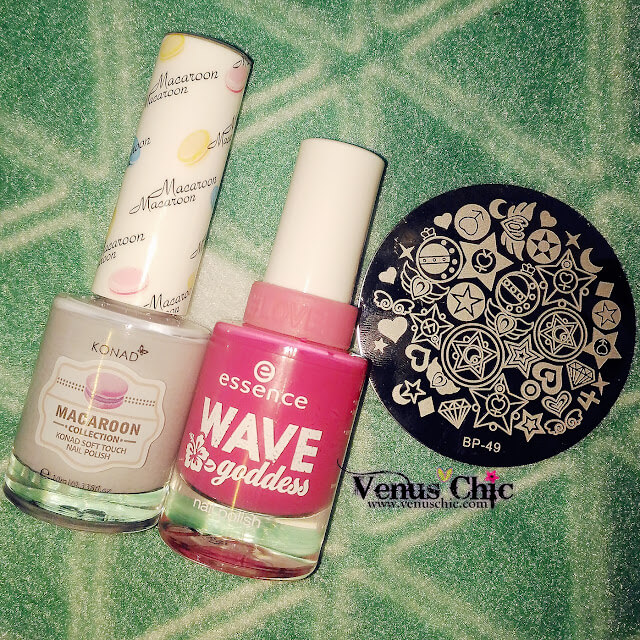 Ca baza am folosit o oja noua, de la scumpa de Oana, care m-a cucerit de la prima vedere. Aceasta este de la Konad, din colectia Macaroon si se numeste Lavender Macaroon. Nuanta acesteia este un lila pastel, cu subton gri iar finish-ul este mat. Pentru o acoperite perfecta sunt necesare 2-3 straturi aplicate cu grija, iar oja trebuie sa se fi uscat perfect intre ele pentru ca altfel nu poate fi aplicata uniform si raman urme de la pensula.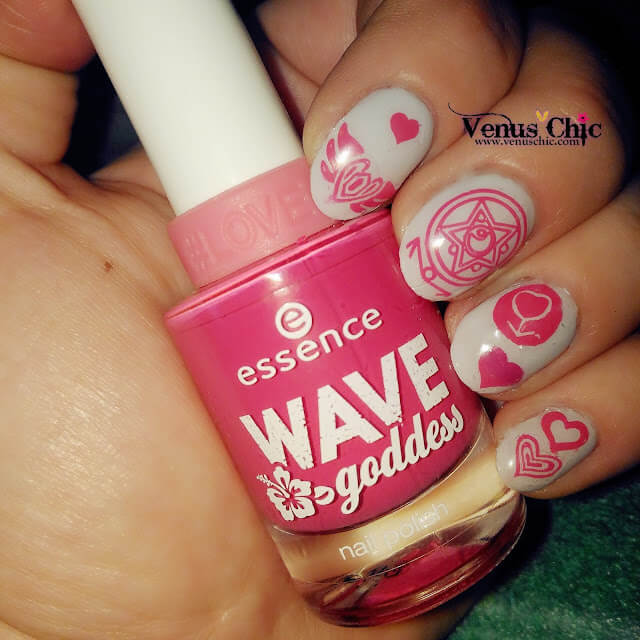 Pentru stamping am ales sa folosesc o oja roz aprins de la Essence din colectia Wave Goddess, nuanta 01 Loose your heart on the board. Daca tot am spus ca realizez o manichiura folosind placuta cu simboluri Sailor Moon, am zis ca aceasta oja este perfecta dupa denumire.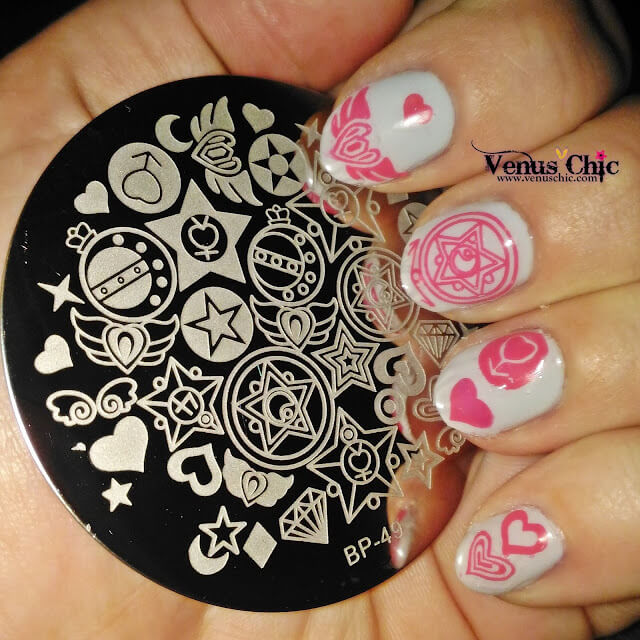 Tema fiind Hearts, am ales sa ma folosesc de modelele de inimioare si de simbolul lui Minako, Sailor Venus, reprezentanta iubirii dar si personajul meu preferat. Logic, avand in vedere si numele blog-ului meu. Insa nu m-am putut abtine si pe o unghile am transferat si brosa lui Usagi, Sailor Moon.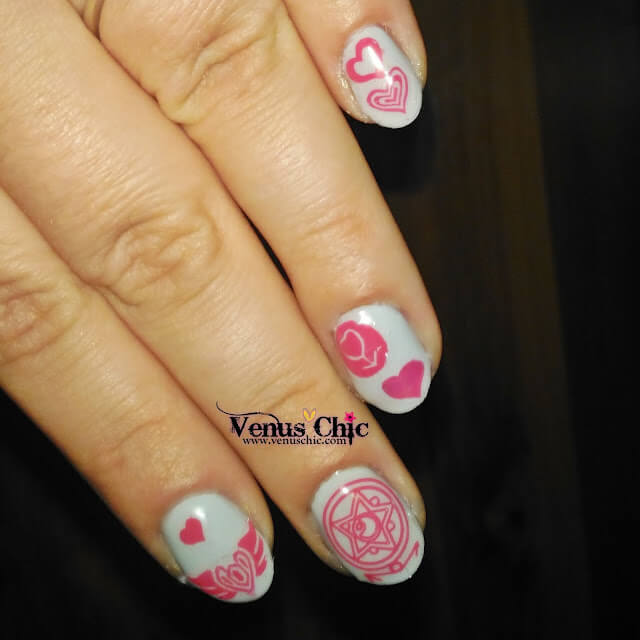 V-am mai spus ca ador ojele de la Essence?Am sa ma repet la nesfarsit, sunt pigmentate, au o consistenta cremoasa, perfecte pentru a le purta simple cat si pentru a le folosi pentru stamping.
Sper ca v-a placut manichiura mea pentru tema Hearts.
Sa vedem ce modele cu inimioare au desenat fetele astazi :