Hello gagici! Voi cum vă petreceţi această zi înnourată de sâmbătă?
Eu împreună cu fetele de pe grupul The Polish Addict v-am pregătit o nouă colaborare.
Tema acestei săptămâni este propusă de către Mădălina şi este Water Marble. Dacă nu o cunoaşteţi deja pe Mădălina, ea este regina water marble-ului şi de asemenea este experta picturii pe unghiuţe aşa că dacă nu o urmăriţi deja, fuguţa la ea pe blog pentru a vedea ce manichiuri superbe realizează.
Pentru tema de astăzi mă pregătesc încă de acum 3 săptămâni... şi tot nu sunt cea mai mândră de ea...
Pentru a realiza un water marble perfect, este nevoie de mult timp, oje bune şi multă, multă răbdare, deoarece este o tehnică foarte... "murdară".
Am încercat mai multe oje, diferite nuanţe, însă cel mai mulţumită am fost de rezultatul obţinut cu oja galbenă de la Nicole by O.P.I din colecţia Selena Gomez, nuanţa Hit The Lights şi oja neagră de la Avon.
Oricât am încercat nu am reuşit să transfer bine modelul pe unghii, aşa că în final am realizat un water marble decal pe care l-am decupat şi aplicat pe unghia degetului inelar. Pentru restul unghiilor am trişat un pic şi am optat pentru un dry-marble.
Deşi este foarte migăloasă şi necesită mult timp, sigur voi reîncerca tehnica water marble, poate data viitoare voi reuşi să prezint o manichiură mult mai frumoasă şi bine realizată.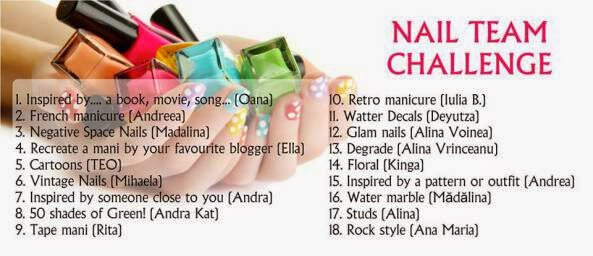 Sper să vă placă manichiura mea. Abia aştept postarea de săptămâna viitoare deoarece este tema propusă de mine! Dar până atunci, n

u uitaţi să treceţi şi pe la celelalte fete participante la colaborare să vedeţi manichiurile lor.