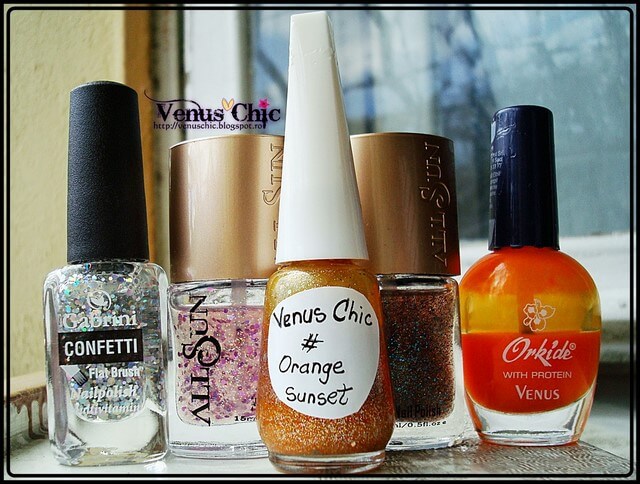 Hello everyone and Happy Easter! Today's post is all about creating your own nail polish. Unfortunately the
T.P.A. Group Challenge is coming to an end, but that means new challenges are on their way. Are you ready to see my "creation"?
Bună tuturor şi Paşte Fericit! Postarea de astăzi este despre crearea propriei oje. Din păcate colaborarea T.P.A. Challenge a ajuns la sfârşit, dar asta înseamnă că noi provocări ne aşteaptă. Sunteţi pregătiţi să vedeţi "creaţia" mea?
For this challenge I've used 5 polishes in total, and that are: Gabrini Confetti 125, AllSun 68, AllSun 72, Orkide Venus 259 and Colleen Comet. The Colleen Comet was really old and barely had some polish, some what dried on the bottom, but because I really like the glitter in it, I just couldn't let it go to waste. So, I've poured in the bottle on top of it the other polishes and mix them up. That resulted is a cute orange glittered polish that I've named Orange Sunset, because it reminds me of sunsets at the seaside and glittering sand.
Pentru această colaborarea am folosit 5 oje, iar acestea sunt: Gabrini Confetti 125, AllSun 68, AllSun 72, Orkide Venus 259 şi Colleen Comet. Oja Colleen Comet o am de mulţi ani şi din păcate mai era rămas un strop aproape uscat pe fundul sticlei, dar fiindcă mi-a plăcut foarte mult glitter-ul din ea nu m-am îndurat să o arunc. Aşa că am turnat în sticluţă peste oja aproape uscată celelalte 4 oje şi am amestecat bine, bine, pentru a crea o ojă nouă. Oja obţinută este o ojă portocalie cu mult, mult glitter, căreia i-am pus numele de Orange Sunset, deoarece mă duce cu gândul la apusurile de soare de la malul mării şi nisipul strălucitor.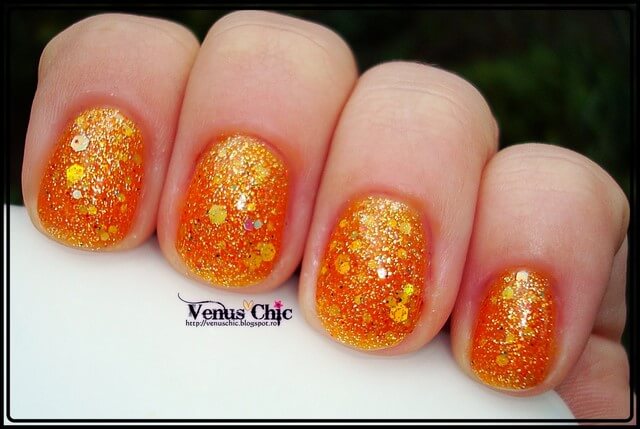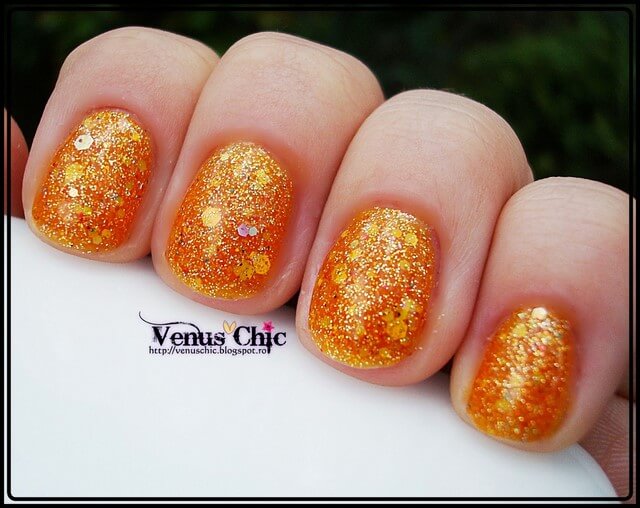 I hope you liked my polish. Don't forget to check out how the other girls interpreted this weeks theme:
Sper că va plăcut oja mea. Nu uitaţi să treceţi pe la fete să vedeţi interpretarea lor pentru tema de săptămâna aceasta: